Pattaya Floating Market
Correctly known as the "Four Regions Floating Market", the sub-sections of this 100,000sqm development represent the four major areas of Thailand – the north, northeast, central and south. This representation comes in the form of shops and stalls selling souvenirs, fruits, food, art, handicrafts, postcards and clothing as well as regular cultural shows and demonstrations. Some of the 114 vendors do indeed float, selling their wares from traditional boats and canoes. The rest are built into a sturdy stilted village, with covered walkways and stout bridges connecting them.
Opening Hours: 10:00 – 23:00
Location: 451/304 Sukhumvit Road, Jomtien
Pattaya Viewpoint
Khao Pattaya View Point on Pratumnak Hill is the best viewpoint in the region and the place to visit day or night to get that classic shot of Pattaya's sweeping, crescent bay. Be warned though, this is anything but an insider's tip so expect to share your view with an almost ceaseless conveyor-belt of package tours and the local traders who follow them touting cheap souvenirs and expensive refreshments. This might sound off-putting but the reality is tours will usually stop for 10 to 15 minutes and once they have been called back to the bus, the view point becomes quiet and peaceful – perfect for enjoying the stunning scenery.
Opening Hours: 07.30 – 21.00
Location: Soi Rajchawaroon, Pratumnak Hill
Coral Island
If told to imagine a cerulean blue sea and a long stretch of pristine beach void of high-rise buildings and away from the claws of civilization, Pattaya would probably be the last place to conjure up in your mind's eye. Well, that would be the case until you've discovered Koh Larn (Larn Island), a little piece of paradise beyond the hustle and bustle of Pattaya… Also known as Coral Island, Koh Larn – situated 7.5 kilometres west of Pattaya Beach – has long been an alternative retreat for those who have become jaded with Pattaya's overdeveloped and overcrowded beaches. Since the island is not so far away, visitors can easily go there in the morning, stay for a couple of hours and then come back to Pattaya Beach late afternoon. And the most convenient way of doing this is by taking a guided tour – complete with hotel.
Art of Paradise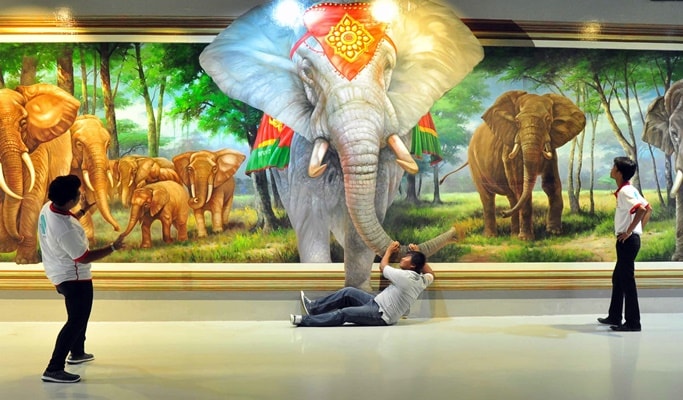 Art in Paradise takes the traditional assumptions of what an art gallery should be and completely ignores them. Instead, the art is brought to life and the visitors can become part of it through the use of optical illusions and playing with perspective. Stand in the right position and take a picture from the right angle – all of which are clearly marked out for you – and it looks like you are flying a magic carpet in the desert, crossing a rickety bridge in the jungle, swimming with dolphins in the ocean or putting the finishing touches to famous masterpieces.
Opening Hours: 09:00 – 21:00
Location: 78/34 Moo 9, Pattaya Second Road Soi 1, North Pattaya
Tel: +66 (0)3 842 4500
Ripley's Believe It Or Not
Ripley's Believe It or Not! contains over 300 exhibits which will boggle the mind. Telling only true stories and facts, the surprising and shocking displays prove that the truth really is stranger than fiction. Alongside this museum of the marvellous are several fun rides, a waxworks museum, a 12D Moving Theatre and the extremely popular Sky Rider – the yellow and white balloon which can be seen rising above Pattaya Beach, offering unique views of the city and the surrounding area.
Opening Hours: 06:00 – 23:00
Location: 3rd floor, Royal Garden Plaza, Beach Road, South Pattaya
Tel: +66 (0)3 841 1285
Buddha Mountain (Khao Chi Chan)
The largest engraving of Buddha in the world, the gold-embossed image was carved out of the side of a limestone mountain with a laser and is 130 metres in height and 70 metres across at its widest. The area in which it resides – commonly known as "Silverlake" – is one of remarkable natural beauty, with a couple of other nearby attractions.
Opening Hours: 08:00 – 17:00
Location: 6km from Kilometre 160, off Sukhumvit Road, Na Jomtien
Water Parks
Pattaya is home to a choice of outstanding water parks, including the largest in all of Thailand, with dozens of slides and rides between them. The biggest and best, including Ramayana Water Park and Cartoon Network Amazone Waterpark, are located just about 20 minutes away from Pattaya City. Each park has on-site restaurants and a range of helpful facilities for families.
Nong Nooch Tropical Garden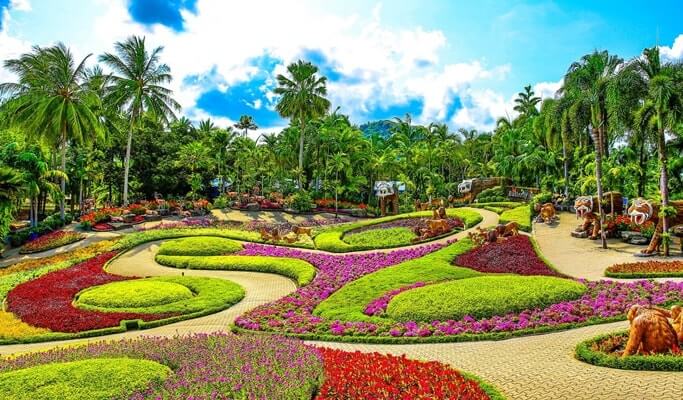 The 2.4sq.kms of Nong Nooch are full to bursting with some of the most remarkable flowers, displays and landscaped gardens in Thailand, if not the world. The team behind them have repeatedly won international awards for their designs, which include 17th-century-French-style gardens, a recreation of Stonehenge, creative topiary displays and gardens created exclusively with cacti, bonsais and tropical palms. It is also the home of over 670 native and hybrid species of orchid and regular displays of classic Thai dancing, boxing and drumming.
Opening Hours: 08:00 – 18:00
Location: 34/1 Sukhumvit Road, Na Jomtien
Tel: +66 (0)3 870 9358
Sanctuary of Truth
This one-of-a-kind teak structure is a truly awe-inspiring sanctuary to a philosophical truth, which tells of the importance religion, philosophy and art has played in human development and the folly of neglecting morality and spiritual contentment in the pursuit of materialism. It is a beautiful and humbling demonstration of human endeavour and skill, particularly when you realise that none of the wood being used has been treated or chemically protected. This means that, as one section is completed, another has succumbed to the tropical conditions and must be replaced.
Walking Street
The sights and sounds of Walking Street are quite unlike anything else in Thailand. Other towns and cities try to claim to have their own version, but nothing comes close to matching the 500 metres of fun which is found at the end of Pattaya's Beach Road. Taking its name from the fact that it is closed to vehicle traffic after 18:00, almost every building on both sides of the road – as well as many in the side streets around it – is a nightclub, beer bar, restaurant or go-go bar to the extent that the road is almost completely deserted during daylight hours as virtually everything is shut. At night, however, the road comes alive with neon lights, thumping music from different genres, food vendors, street performances and party animals from around the world.
Cartoon Network Amazone Waterpark Thailand
Cartoon Network Amazone Waterpark is the world's first Cartoon Network themed waterpark located at 888 Moo 8, Na Jomtien, Sattahip, Chonburi, Thailand, 15 kilometers away from South Pattaya. The park has recreated an atmosphere of Amazon rainforest with several attractions and activities such as water slides, artificial sea, rafting, flowriding and live shows, all featuring Cartoon Network's famous characters including Ben 10 and his aliens, Adventure Time's Finn and Jake, The Powerpuff Girls, Johnny Bravo etc.
Ko Somet Island Ful-Day Excursion
Ko Samet is one of the eastern seaboard islands of Thailand. It is in the Gulf of Thailand off the coastline of the Thai province of Rayong, approximately 220 kilometres (140 mi) southeast of Bangkok. Ko Samet is part of the Phe Subdistrict of the Amphoe Mueang Rayong, of Rayong Province. Ko Samet is the largest and westernmost of a cluster of islands not far from the coast. Ko Samet measures 6.8 kilometres (4.2 mi) from north to south. At its closest point to the mainland, the island is 2.6 kilometres (1.6 mi) south of mainland Rayong Province; however the actual travelling distance from the main commercial tourist pier in the town of Phe to the island's closest tourist beach is about 10 kilometres (6.2 mi).
Flight of the Gibbon Chonburi Zipline Tour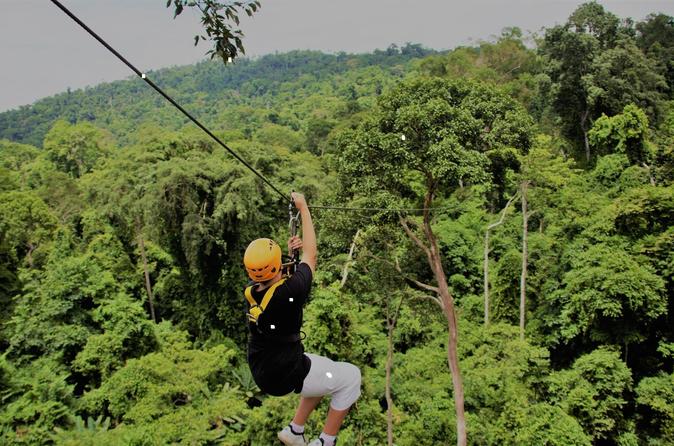 Our Chonburi Zipline course is located in Chonburi province on the borders of Chompoo Wildlife Reserve. The convenient location is approximately 1 to 1.5 hours from Bangkok or Pattaya. Round trip transfers are included when you book a Ziplining tour with Flight of the Gibbon.
Bangkok to Pattaya Cycling Adventure
Experience a 2-day adventure from the metropolitan city of Bangkok to the sandy beaches of Pattaya. Enjoy the beautiful scenery of paddy fields, canals, and rivers as you pedal your way to Woodlands Resort for the night. Dine on your well-deserved meals between your bike rides to keep you going.